Unknown - CC BY-SA 3.0 • Technische Fred - CC BY-SA 3.0 • Marc Ryckaert - CC BY 2.5
Doñana National Park is a natural reserve in Andalusia, southern Spain, in the provinces of Huelva (most of its territory), Cádiz and Seville. It covers 543 km2 (209.65 sq mi), of which 135 km2 (52.12 sq mi) are a protected area. The park is an area of marshes, shallow streams, and sand dunes in Las Marismas, the delta where the Guadalquivir River flows into the Atlantic Ocean. It was established as a nature reserve in 1969 when the World Wildlife Fund joined with the Spanish government and purchased a section of marshes to protect it. The eco-system has been under constant threat by the draining of the marshes, the use of river water to boost agricultural production by irrigating land along the coast, water pollution by upriver mining, and the expansion of tourist facilities. It is named after Doña Ana de Silva y Mendoza wife of the 7th Duke of Medina Sidonia.
Doñana National Park has a biodiversity that is unique in Europe, although there are some similarities to the Parc Naturel Régional de Camargue of the Camargue river delta in France, with which Doñana Park is twinned. The park features a great variety of ecosystems and shelters wildlife including thousands of European and African migratory birds, fallow deer, Spanish red deer, wild boars, European badgers, Egyptian mongooses, and endangered species such as the Spanish imperial eagle and the Iberian lynx.
The Doñana nature reserve includes both the Doñana National Park, established in 1969, and the Natural Park, created in 1989 and expanded in 1997, creating a buffer zone of protection under the management of the regional government. The two parks, national and natural, have since been classified as a single natural landscape. Due to its strategic location between the continents of Europe and Africa and its proximity to the Strait of Gibraltar, Doñana's large expanse of salt marsh is a breeding ground as well as a transit point for thousands of European and African birds (aquatic and terrestrial), and hosts many species of migratory waterfowl during the winter, typically up to 200,000 individuals. Over 300 different species of birds may be sighted there annually. Considered the largest nature reserve in Europe, several different scientific institutions have monitoring stations within its boundaries to ensure appropriate development of adjacent lands and conservation of the threatened species that inhabit it. The area was declared a World Heritage Site by UNESCO in 1994; in 2006 the park recorded 376,287 visitors.
During the 19th and 20th centuries, a herd of feral dromedaries roamed the area. They may have been introduced during the Moorish Conquest of Spain in the 8th century, or they may have escaped from a herd introduced by the Marquess of Molina as beasts of burden in 1829. By the 1950s, there were only eight individuals left, and these were threatened by poachers.
Getting there
To reach Doñana, in the southwestern corner of Spain, you have several options. The closes internation airport is Sevilla. From here, the drive is only around 45 minutes to reach the national park. The best choice to reach the park is to rent a car. Alternatively, you can book trips from Sevilla to the national park.
When to visit
April is a great month to visit Doñana, one of the best times for birdwatchers or to enjoy our wildlife and colourful landscapes. All seasons have something to offer for nature lovers.
Map of Doñana National Park
Image gallery of Doñana National Park
Technische Fred - CC BY-SA 3.0 •
Marc Ryckaert - CC BY 2.5 •
José Luis Filpo Cabana - CC BY-SA 4.0 •
Joergsam - CC BY-SA 3.0 •
Carlos Delgado - CC BY-SA 3.0 •
Sights in Doñana National Park
Some national parks contain more than just natural wonders. This list shows you some of the sights that are located in the national park. This includes museums, cathedrals, bridges, dams and much more.
Visitor/Information centres in Doñana National Park
Most national parks have an associated visitor centre to help visitors. They are usually open most of the year but some close in the off-season. You will often be able to find information on all the activities in the national park. A visit to the visitor centre is often recommended before venturing into the park.
Hiking trails in Doñana National Park
Almost all national parks have some opportunities for hiking. You can see some of the more popular trails here. You should get local information for detailed information on all trails of the national park.
Natural Sights
Most national parks have there own trademarks. This goes for both natural sights and man-made. This section will list any popular sights in nature.
Wildlife in Doñana National Park
These sections shows you some of the characteristic wildlife to the national park.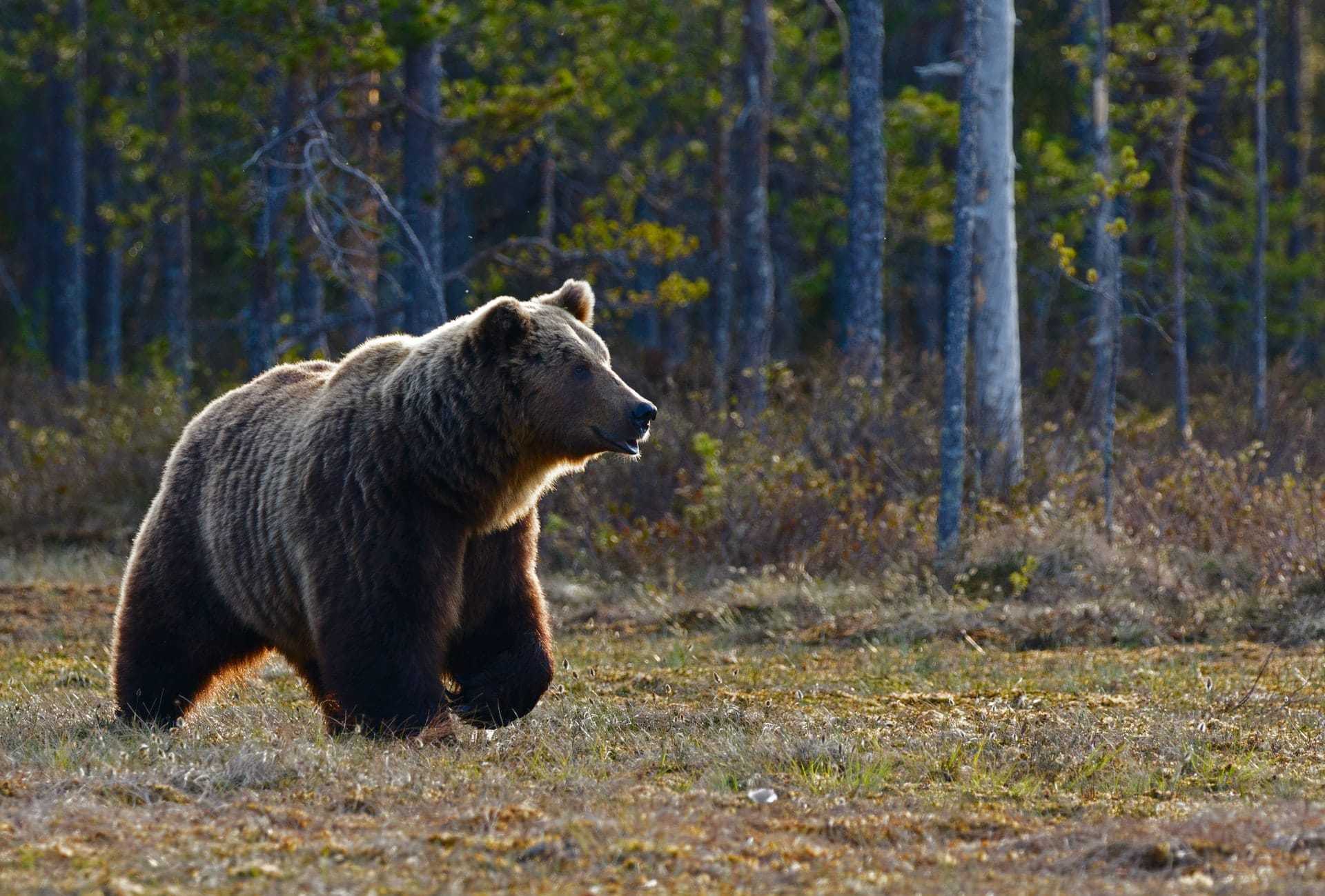 Bears in Doñana National Park
Few bears in the park
This national park has bears and you need to take the necessary precautions. It is however unlikely that you will come across a bear.